What is the Vineyard I hear you ask?
The Vineyard is a church movement which began back in the 1980's through the leadership of John Wimber. It currently comprises of more than 1,500 Vineyard churches worldwide, around 550 in the US, over 100 in the UK & Ireland, as well as 'Vineyard Records' helping thousands of churches experience intimacy with God.
Through the Vineyard, many churches have been equipped to continue Jesus' ministry of proclaiming and demonstrating the kingdom, as well as training disciples.
Vineyard Churches UK & Ireland was formed for the purpose of joining together churches who hold common values and practices, and, first and foremost, it is a conservative evangelical movement. VCUKI is governed by a Council through a number of Task Forces, including a Board of Trustees, which gives oversight to the pastors of existing churches and facilitates widespread church planting.
The major part of its function is to be an organisation that gives, helps, serves and strengthens our churches. As you may have heard it said, 'our aim in Vineyard Churches UK & Ireland is to do all we can to help you become all that you can in Christ.' We're thoroughly committed to the view that this can only be achieved through the building and sustaining of strong relationships among us based on love, openness and trust.
National Directors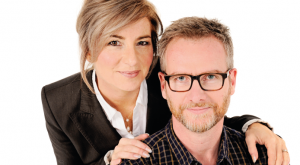 Our National Directors are John & Debby Wright who founded and currently lead Trent Vineyard in Nottingham. 
John & Debby have been serving together in pastoral ministry since 1989. John initially trained and worked for a number of years as a jeweller before studying at London Bible College. Debby was brought up, and lived, in Chile until she was 13 and later moved to Nottingham to train as a dancer and artist.  Her father is the Anglican bishop, David Pytches, who founded the New Wine network.
John & Debby's first involvement with Vineyard was in 1982; then in 1987 they spent 8 months as interns at Anaheim Vineyard (under John Wimber, the leader of the Vineyard Movement in the USA).
Following their time at Anaheim they returned to England to help John and Eleanor Mumford start the first UK Vineyard (SW London Vineyard.)
John & Debby worked at SW London Vineyard for 9 years before moving back to Nottingham to set up Trent Vineyard. They have two sons, Zack and Jordan.
In January 2015 it was announced that John & Debby would take over as the National Directors of Vineyard Churches UK & Ireland, while continuing to lead Trent Vineyard. Their commissioning took place on Saturday 19th September 2015.
Today the Vineyard continues to grow, planting churches in new cities across the world. For more information about the Vineyard, do visit the following links:
www.vineyardchurches.org.uk
www.vineyardrecords.co.uk
www.insideworship.com